As French as I get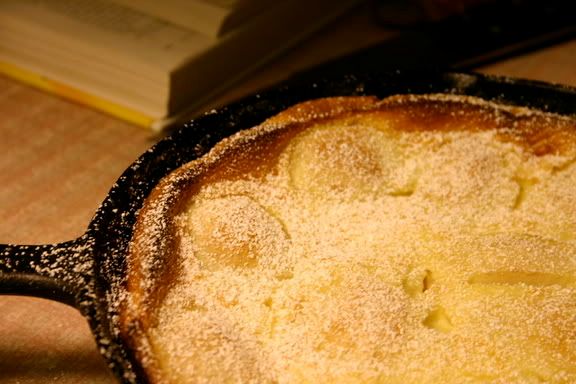 I'm not sure how it happened, but dinner on Friday included both of the French dishes I know how to prepare--
moules mariniere
and pear
clafoutis
(above).
I'd invited a visiting New College friend over for dinner and had decided about a week in advance to make mussels. It had been months since I'd prepared steamed mussels at all, and the last few times, I'd made this
Thai version
. My moules mariniere is essentially mussels steamed with white wine, chicken broth, butter, shallots and fresh thyme. I've seen other versions that add heavy cream to the broth but I don't really see that as necessary. Also, I did some homework and read Julia Child's and James Beard's versions of the recipe, both of which tell you to put everything in a heavy pot, cover it and turn on the heat. Not so for me. Hardly any more time consuming, I sweat the slivered shallots in a few tablespoons of butter, toss in the fresh thyme, stalks and all, and then add white wine and stock, probably about a cup of liquid all together. To this I add the cleaned, picked over mussels. I put on a tight fitting lid, increase the heat and give the pot a good shake. As the mussels open, I transfer them to a bowl. When all of them have opened, or in some cases proven themselves already dead by not opening, I transfer the broth to another bowl and serve both with toasted baguettes. The mussels were small, delicate and briny. The real star of this dish, however, is the broth--rich with butter and wine, but also very light and clean, tasting of thyme and the ocean.
As for the desert you see above, I had originally wanted to make the traditional clafoutis with cherries, since they are prevalent in the markets now. At least, they were prevalent. By the time I got to the supermarket on Friday afternoon, there were none left, save for the uber-expensive organic cherries. I just couldn't bring myself to buy half the produce for more than twice the price. (For more gripes of this nature, check out what
Bad Things
has to say lately.) Pear clafoutis is just as good, and so that's what I made.
Perhaps the simplest and most elegant-looking dessert I know how to make, clafoutis is little more than a sweet custard poured over fruit and baked. This version came from Bittman's
How To Cook Everything
. The cast iron pan makes for a nice presentation as well as a good brown crust on the finished custard. Usually my clafoutis sticks to the pan, but this time, by greasing the pan up with more butter than you'd like to think about and dusting it with sugar, it came clean. A final dusting of powdered sugar really ups the wow-factor.
So far I've only experimented with Bittman's recipe and one from Saveur, which I found a little too egg-y. If anyone has any other clafoutis recipes, please pass them along.