Home-grown Rapini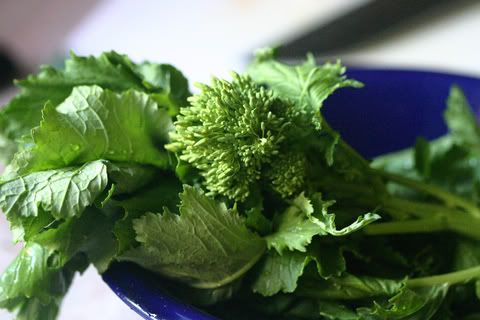 When I went out to water the garden this morning, I noticed that one of my rapini plants had finally set a flower (see above). I've never grown rapini before, and I'm not sure what the window of time is for eating it, but as it's a bitter green, I figured I should eat it before it goes to seed and becomes even more bitter.
My battery of recipes for rapini is pretty limited. Really all I ever do is saute it with garlic and chilis. Today was no exception; however I also threw in some Italian sausage, some freshly roasted red and yellow bell peppers, and some shaved Parmigiano-Reggiano. It went together like this: (1) Remove sausage from casing and brown with a little olive oil and crushed, dried chilis. (2) Add thinly sliced garlic and saute for another minute or so. (3) Add rinsed and very roughly chopped rapini. It should still be damp from rinsing, and when I say roughly chopped I mean that I cut a large bunch into three segments. (4) Cover and set heat to low until rapini wilts. (5) Return heat to medium high and add chopped roasted peppers. I've used jarred roasted peppers in this dish in the past, but fresh are much better. Just char the peppers under a broiler or over a flame until the skin is completely black. Seal them in a bag or in a bowl to steam the skins off. Peel without rinsing, remove seeds, and do what you like. Lately I've found it even easier to split and seed the peppers before charring them, but I think you loose some of their juiciness that way. Anyway, you can't really go wrong.
I served the whole mess, topped with the parmigiano, over a split, toasted baguette.