Awwww We Grillin' Tonight...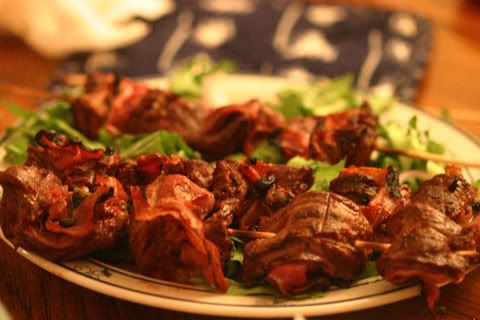 With the weather getting hotter down here in Florida, what could be better than standing in front of a large tray of burning coals for an hour?
I tried a recipe from my new Mario Batali cookbook last night. I'm not really sure why he calls them "beef birds," as the recipe intro provides no explanation. It's simply skirt steak, pounded thin, layered with prosciutto and sage, and then skewered and grilled. Although I skipped the chunks of pancetta that were to be interspersed with the skewered 'birds,' they were still amazing. The proscuitto that got exposed to the high heat crisped around the edges and gave a nice saltiness to the steak. I served them, as suggested, atop a salad of escarole ('schkarole) and shaved red onions, dressed with a little olive oil, salt and pepper. The grilling didn't stop there though. I grilled another skirt steak, straight up, and served it with a Thai-style cucumber salad with lime, chili and mint.
For the vegetarian company, I grilled some zucchini and cherry tomatoes and served them with a feta-sour cream sauce. Props to Gourmet for actually enticing me to make something from their magazine. That's not to say that their recipes are bad. I just never really feel excited about too many of them. Usually, when I do make them, they're always quite good. This was no exception. To finish, I grilled some pineapple, which everyone was too full to really enjoy. I should mention that the meal began with about three dozen gyoza courtesy of
Kitchen Monkey
. Always a crowd-pleaser. There were also more fresh roasted peppers, olive salad, and Renee's deviled eggs.
I would also be doing a great disservice if I didn't include a picture of Renee's piggy cupcakes. I can't even tell you how excited she was about these-- and rightly so. She even obliged me with an albino pig, as I'm not really down with dyed frosting.