Mazzaro's and (sigh) cheese of the week #3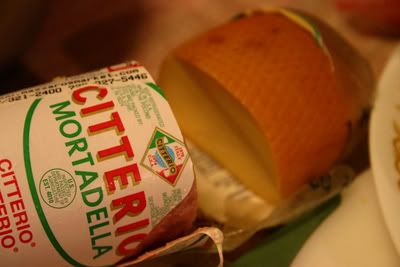 Yesterday I finally made it to Mazzaro's Italian Market in St. Petersburg. I'd heard great things about it on chowhound for years and, when I friend from the area mentioned that he goes every now and then, I requested that he take me along sometime. Mazzaro's is quite the circus on Saturdays--live band, wine tastings, and customers pretty much wall to wall. I fought my way in, and what did I come up with? Perhaps the best thing was the fresh spinach and cheese ravioli, which, after having made all of it at once last night, I regret not buying more of. Next time I'll be sure to try more of their prepared foods, which included a variety of other prepared pastas, meats, and salads. Along with the pasta, I bought a muffaletta-style olive salad, Italian milk chocolate with hazelnuts, focaccia, rosemary bread, rapini (which I also just planted in the garden), the mortadella you see above, and finally, some smoked mozzarella (also pictured). I'm a fan of smoked gouda, and I'm sure I've had smoked mozzarella, or
scamorza
, before. This particular chunk of cheese, made by Il Villagio, was not a winner though. The texture was slightly rubbery, and it tasted of little more than hickory smoke. Now I'm not saying that it'll go to waste, but I don't think I'll buy it again.
I prepared the ravioli very simply--tossed with only butter, fresh sage, and ground pepper. As for the rapini, I did my usual preparation of steaming and then sauteeing with olive oil, garlic, and dried chiles. I added some slices of pink lady apple this time though. I'm a fan of apples and kale, and this pairing worked similarly well.
Sadly, I'm almost out of most of the groceries I bought yesterday. Soon enough there'll be another trip Mazzaro's.