Pasta with bacon, peas, sage, and cream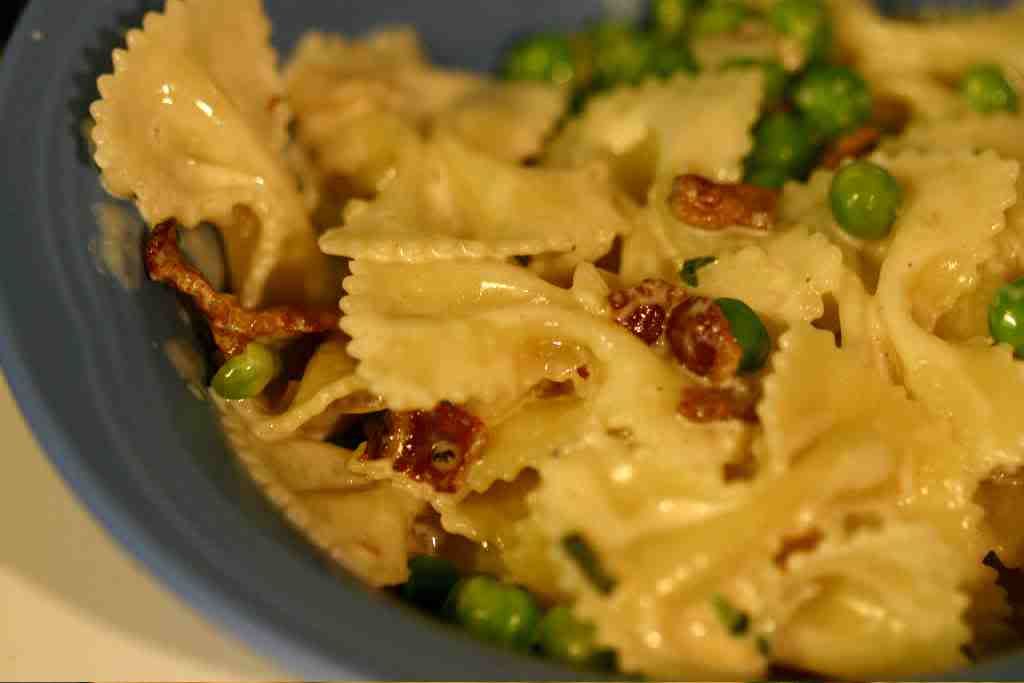 If you read the previous post carefully, you'll note that I had some heavy cream on hand for yesterday's corn and poblano soup. I still had about half of the carton left over and, what with the foul weather and all, I decided to make something comforting. And what better to do with heavy whipping cream than to pair it with bacon? I don't usually go into great detail for recipes on this blog, but I'm very happy with the way this came out, and, should you want to try it yourselves, I'd like you to be able to. So here goes, roughly:
2 medium shallots or 1 large shallot, thinly sliced
a palmful of sage leaves, thinly sliced (I had to run out to my garden in the rain)
1-1.5 cups frozen peas, at room temperature
3 strips of bacon, cut into half inch pieces
1 cup heavy cream
half a pound bowtie pasta
salt and pepper(I ran out of the latter, but it would have been nice)
1. Bring a large pot of salted water to a boil over high heat.
2. Heat a large saucepan over medium heat and render the fat from the bacon. When the pieces are crisp and their fat has liquified, remove them to dish and drain off all but 1-2 tablespoons of the bacon fat.
3. Add the slivered shallots and saute until soft, 2-3 minutes. Season with pepper. Add sage and saute another 30 seconds.
4. Remove pan from heat and allow to cool slightly. Add cream and return to low heat. Stir frequently until sauce has thickened slightly. Depending on how salty your bacon is, you might not need salt. Check now though.
5. Add peas and bacon to sauce.
6. By this point, your water should be boiling. Add pasta and stir frequently.
7. Drain pasta. Do not rinse. Add to sauce and toss to coat.