Indian Dinner (or All Dal'd Up)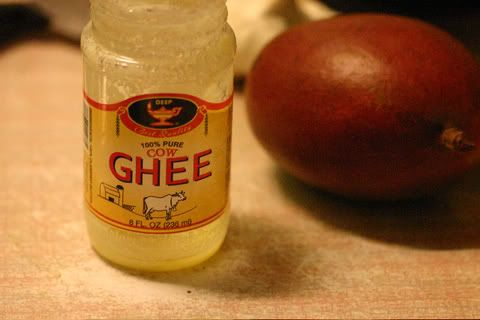 This morning, shortly after waking, I got out of bed, put on a sweater, and went out to the yard to pressure-wash a large, hardened mass of ghee and dal from a kitchen rug. That said, I should probably backtrack a bit.
Beki and I decided to collaborate on a meal of Indian food, mainly because we both have a copy Yamuni Devi's doorstop of a cookbook,
Lord Krishna's Cuisine
. Since neither of us really knew where to start with the encyclopedic tome, we decided to make a beach-head of sorts by sitting down and picking several things for a meal.
The menu:
-Mint chutney
-Mango chutney (not from Devi)
-Eggplant, sweet potato, and cauliflower pakoras
-Golden mung dal soup
-Curried cauliflower and potatoes
-Basmati rice with cumin and cardamom
-Mint and rosewater lassi
-Nan
We shopped at India Bazaar and the Red Barn, with a quick detour to Yi's Asian Mart so Beki could reminisce over some Korean snacks, including kim chee. I should add that Beki just couldn't wait until she got home to crack open her jar of fermented cabbage. I havn't been out to my car today, but I have a slight fear that the "knock-a-buzzard-off-a-shit-wagon" smell might still be there. Don't get me wrong. I like kim chee. Just not in my car. Anyway, we got all the groceries we needed, kicked back for a few hours, and then set about cooking.
For a quicker dal, Devi suggests using a pressure cooker, which we borrowed from Guapo and the Alamaidens. Now, that thing came with a manual, and we read it. Honest, we did. We added our ingredients, sealed the pot properly, brought it up to temperature, lowered the heat, and, for a while, the pressure release was chirping happily, as I'm told it should. I guess we didn't lower the heat enough though, because the pot began steaming more violently, eventually starting to spew a turmeric-yellow mist all over my stove and kitchen counter. I removed the pressure cooker from the heat, let it cool down a bit, and then returned it to a lower heat. All seemed to be well, so I went about prepping the cauliflower and potatoes. It's anyone's guess as to what happened next, but my theory is that the release on the pot got clogged with soup and, after another 10 or 15 minutes on the heat, a brothy, Bengali fury exploded forth onto my kitchen. Luckily, I'd pointed the pot away from myself when I returned it to the heat the first time. Not out of any thoughts of safety, of course, but rather to keep my borrowed cookbook out of harm's way. Good thinkin' boy. In my memory, it sounded like a gunshot, followed by a shrill whistle, followed by a sustained hiss. At any rate, it made me duck instinctively. I wrapped a dish towel around my hands and pulled the pot--which had now covered the entire cooktop with soup--from the heat, in hopes that it would calm down. Not so. The Yosemite-like display continued, and, with soup beginning to drip over the edge of the stove, I pulled the pot off and set it to rest on a small blue area rug at the foot of the oven. Eventually, it calmed down and I removed it and the rug to the garage.
Everything else went pretty smoothly. Really, the other couple of hours in the kitchen last night are sort of a blur. I think dinner was finally served around 10 or 10:30. Perhaps I'll describe more of it later. Clearly, that was the highlight though.