Live blue crabs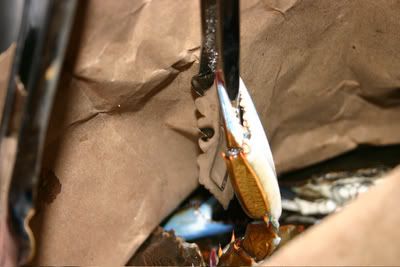 "Down, you bastards!"
Maybe I should start from before when this picture was taken. Last Friday, new year's eve, Renee and I decided to seek out some live blue crabs. I placed a call to a fish house on Cortez, and they directed me to Snead Island Crab and Fish House. As it turns out, the place on Snead Island is a bait shop with a covered dock on the back. Renee said it smelled of horse meat; I wouldn't know. Out on the dock, an older gentleman stood hunched over three big rubbermaid bins of very lively blue crabs. He was in the process of pulling out two dozen crabs for a cleancut middle aged couple--who I assume belonged to the silver Mercedes Kompressor that was parked out front. Oddly enough, the guy buying the crabs was from the same town in Maryland as Renee. Even more coincidentally, one of the other guys hanging out on the dock was stationed in Key West with the navy in the forties. He said he well remembered the Brown Derby, one of the earlier incarnations of the
Green Parrot
. He and another guy sat at one of the dock's picnic tables, sipping on cans of beer and watching the larger fella whip crabs into brown paper bags. After the Maryland guy left with his wife and the tiny dog she was cradling, we ordered our dozen large crabs. We watched as this big hulk of a guy plunged a pair of tongs into the bins, pulled out a crab, sometimes two if they wouldn't let go, and threw them into a sack. Every now and then he'd stop to spit some dip into the cracks in the dock, eschewing the battered cuspidor that sat on a picnic table behind him. Eventually, he tied a plastic grocery bag around our brown bag of crabs, and we left.
I should have figured that, as this guy probably does that every day, he'd make it look pretty easy. What he did in about two minutes--getting a dozen live crabs into a bag--took us about 15 minutes to undo. None of them got away, but we eventually had to dump the bag into the sink, as they appeared to be planning a break. Much to my surprise, I didn't get pinched once.
We boiled half of the dozen with old bay and lemon, threw down some newspapers in the yard, and ate them.
The other dozen were steamed, split apart, and cleaned of their lungs, etc. From there, I fried a couple of smashed garlic cloves and chili flakes in olive oil. I browned the crab peices, still in the shells, until the shells took on a little color and let off that very specific toasted shell aroma. From there, I added a few chopped fresh tomatoes and some salt. I let the sauce cook down a little bit, then tossed it all with about a pound of pasta.
It was a fine new year's eve dinner. Afterwards, we made pizzelles. Hopefully I'll get some pictures of those next time.
I don't think I'd had spaghetti and crabs since I was about five years old, visiting my family in Pennsylvania. The last time, I was more interested in playing with the crab claws. Not that I wasn't interested this time, but less so, I think.