Re-sotto
With the weather turning a little bit colder, I've developed the urge to spend more time in the kitchen. I don't think it's really cold enough for me to start baking yet, but, with the kitchen window open, it was cool enough to make some risotto. Taking a few guidelines from Essentials of Italian Cooking, I made saffron risotto, mostly out of what was around. I'm not sure whose rice I used, but it sure wasn't mine. I did buy saffron and chicken broth specifically for that purpose though. The Badia brand saffron is much cheaper than other brands. I don't notice too much of a difference in taste. Maybe it's not as potent. All in all it was a decent risotto: just onion, broth, saffron, butter and a little locatelli. I think this was the first time I used the le creuset to make it. The cast iron seemed to work pretty well at keeping an even heat.
I had plenty of risotto left over, and that's where the title of this post comes in: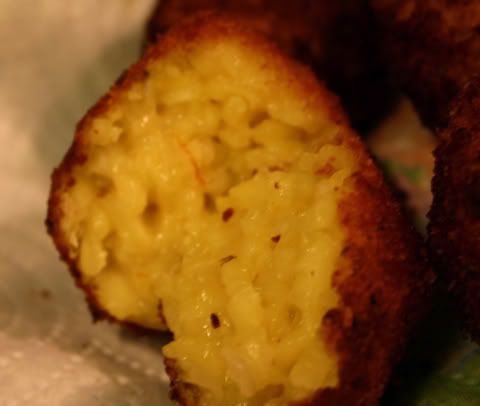 fried risotto. You can even see one of the little saffron threads.
I made golfball sized pieces of cold risotto, dipped them in beaten egg and breadcrumbs and then fried them in vegetable oil. With a little lemon juice, it was wonderful. Maybe even better than the risotto the first night. The lemon makes me think that maybe incorporating lemon into the initial recipe would be a good idea. Maybe risotto with peas and lemon? Next time. There's still a big bowl of risotto in the fridge, so maybe more tomorrow.