Lamb and Rice Formula
No, this post actually isn't about
dog food
. Last night, we made a few middle eastern dishes. I guess the impetus for this was an episode of Good Eats about grilled lamb. Along with the lamb, we--Matthew, Liz and I--made
dolma
, or stuffed grape leaves, hummus, and a cucumber and yogurt soup.
As Matthew injured his hand--in a non-kitchen-related incident--it was left up to me to debone and butterfly the leg of lamb. Sometimes butchers sell either the shank or sirloin end of a leg of lamb, but no, we got a whole leg. No matter, I seen 'em do it on that TV. I'd never butchered lamb before, but I had done similar things with other cuts of meat--unrolling bone-in pork loin roasts and such.
Staring down the lamb.
It was pretty easy to see where the bone ran from one end of the leg to the other, it was just a matter of getting in there and working around it. I don't have a boning knife, but a sharp paring seemed to do the job just fine.
Here you can see that the bone, in my left hand, is about two thirds of the way out.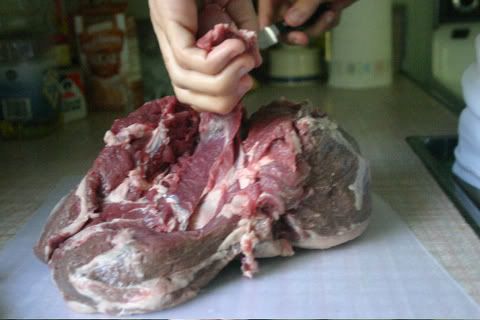 After it was removed completely, I made a few more butterflying cuts to even the meat out. Here's the nearly finished product.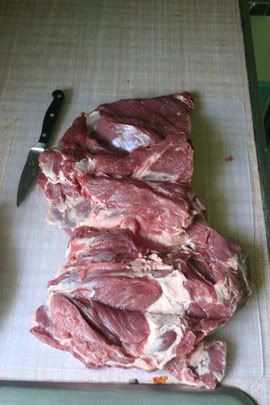 I say nearly finished because at this stage, we decided that it would probably cut down on cooking time if we split the leg into two smaller pieces. After this, the lamb was returned to the fridge to wait until everything else was ready.
[Obviously those are my hands in the previous photos, so I wasn't taking any pictures at that point. The rest of the photos are mine.]
The next thing we prepared were the
dolma
. I'm not sure on the plural and singular forms of dolma, so I'm just going to say dolma. Dolma'nd if I do. So, this is where the lamb and rice formula comes in. The grape leaves were stuffed with a simple filling of sauted onion, garlic, ground lamb, spices, mint, parsley, lemon juice and rice.
Before being stuffed, however, the leaves needed to be conditioned a bit. Like the
hojas
or corn husks for tamales, the leaves benefited from a bath in some hot water. This helped to make them a bit more pliable, rinse away some of their brining liquid, and make them easier to separate. It was the latter that seemed the most important, as the leaves appeared to have been jammed into that jar with a boot.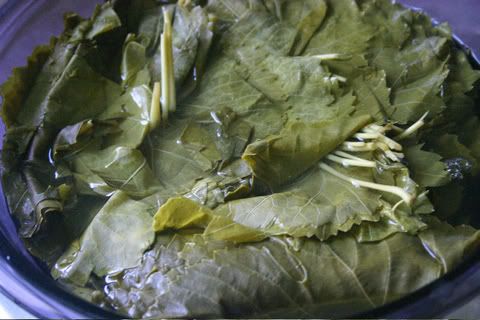 Leaves ready to be rolled.
Since all of our skilled hands were busy during the rolling process, there are no step-by-step pictures. Basically a large spoonful of filling is spread onto a leaf, which, ideally, should be slightly smaller than your hand. The leaf is then folded over the filling and then rolled into what looks like a very short cigar. The little packages are then placed in a leaf-lined sheet pan and then covered with lemon slices, a small amount of butter and chicken stock and finally another layer of leaves. The entire tray is then covered with another weighted sheet pan and baked at 250 for roughly an hour. I think. I was out getting the coals ready.
As I was loading Renee's hardwood charcoal into the trusty charcoal chimney, Matthew was inside preparing the lamb. Each butterflied piece was spread with a mixture of garlic, mint, mustard, brown sugar, olive oil, salt and pepper. The pieces were then rolled up and trussed with butcher's twine.
I don't know why I find this funny, but I do. They usually just give me a handful of twine.
When the coals were ready, I dumped them into the grill and spread them to opposite sides in order to make the heat a little less direct. As it turned out, it was a little too indirect, and another load of coals had to be added about 20 minutes into the grilling. After about 45 to 55 minutes though, our lamb was done.
I know, I know, it doesn't look too pretty, but I shot that one with a flash.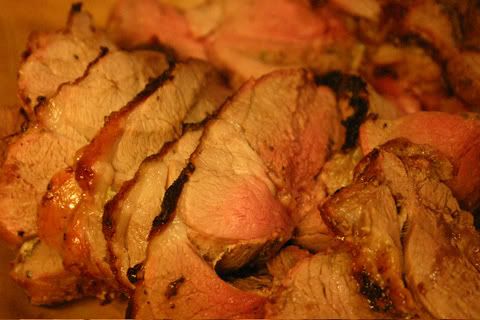 Here it is after being carved.
And here are the dolma.
I know I also mentioned a cucumber and yogurt soup as well as hummus. Neither of these were too photogenic. Basically, the soup was a puree of yogurt, cucumber, garlic, and tomato paste, served chilled. The hummus of course was chick peas, garlic, tahini, olive oil, parsley and lemon juice.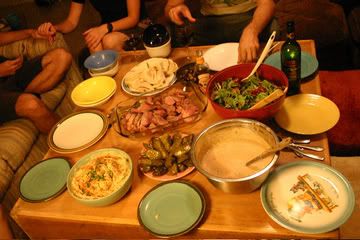 The table, complete with some hand holdin' and a salad.